Pre-Owned, factory refurbished, full factory warranty
The MODX7 is the 76-key model in the company's next-generation MODX series of affordable, high-performance synthesizers. Packing powerful technologies ported from Yamaha's flagship Montage series, the MODX range features numerous state-of-the-art upgrades from their MOXF predecessors, including the AWM2 sample and synthesis engine fortified with eight times more waveforms, a powerful new 8-operator FM-X engine modernized for amazingly dynamic sonics and complex sound design, and Motion Control Synthesis for seamless integration and powerful control of both sound engines.
Packed with sophisticated features
In addition to the AWM2 and FM-X sound engines, the MODX7 is packed with sophisticated features (many handed down from Montage), including the Super Knob, which gives you simultaneous control over multiple parameters; the ability to send ten and return four audio channels plus 16 MIDI channels to/from your computer or iOS device over USB; Live Sets, which allow for Performance organization without copying, renaming, or changing order; and an A/D input that processes external audio sources through the MODX DSP.
Also onboard is Yamaha's Motion Sequences feature, which drives synth parameters via rhythmic control data you can intuitively interact with in real time; an Envelope Follower that lets you use internal or external audio as a synth parameter control source; and a Vocoder effect that re-creates the classic voice-synth sound. Four-part Seamless Sound Switching, the capacity for 27 simultaneous effects, an onboard 4-in/10-out audio interface, and 1GB of internal flash memory complete the feature set. The MODX7 gives you a powerful modern synthesizer, a potent controller with a multichannel USB audio/MIDI interface for extensive DAW and VST control, and an expressive 76-note LC synth-weighted keyboard to drive it all.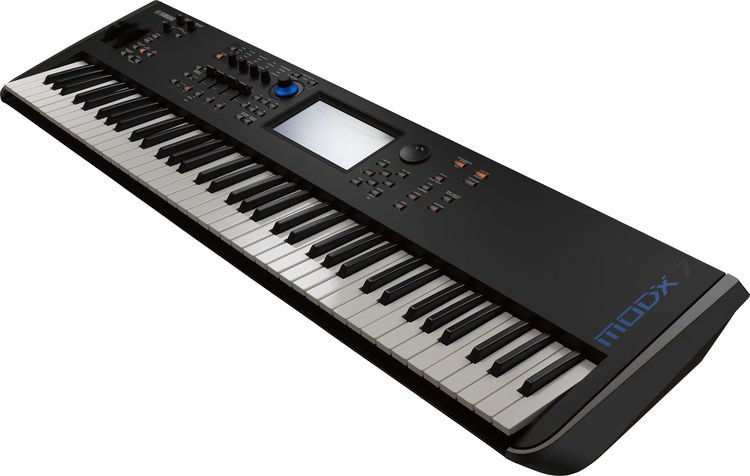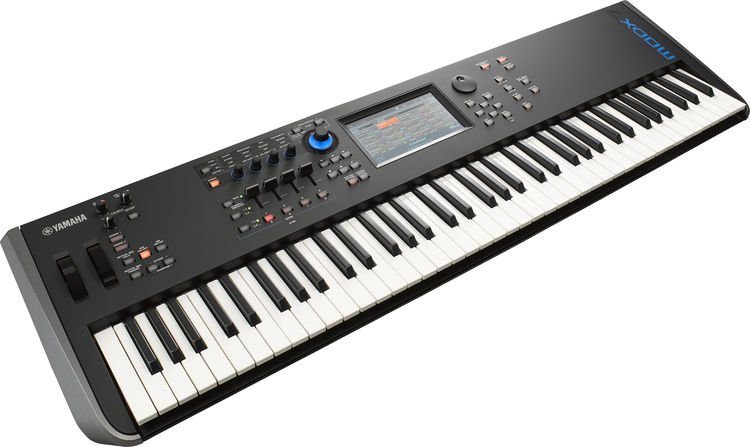 A powerful instrument that does it all
Keyboardists at AudioworksCT have long respected the top-notch sounds Yamaha loads into their keyboards, and the MODX7 is no exception. From stunningly realistic acoustic and electric pianos, guitars, basses, and drums to orchestral instruments to vintage and modern synth sounds, each patch is expertly crafted down to the finest detail, so you can call up any preset you like and never have to worry about tweaking your tone. When you're in the mood to patch from scratch, however, the MODX7 provides a robust set of sound-sculpting tools for realizing your ultimate musical vision.
Add to that a full complement of VCM-based effects and processors, and you'll never run out of creative possibilities with the Yamaha MODX7. MODX7 boasts a broad selection of effects for both the internal sounds and for use with the A/D inputs, giving you access to the same effects found in Yamaha's professional digital recording consoles. And MODX7 supports the use of 27 effects simultaneously, so you can polish your tracks to perfection.
Yamaha MODX7 76-key Synthesizer Features:
Expressive LC synth-weighted keyboard
Motion Control Synthesis unifies and controls AWM2 and FM-X sound engines
192-note total polyphony: 128-note stereo AWM2 + 64-note FM-X
Super Knob controls multiple parameters simultaneously for highly expressive sound interaction
Send 10/receive 4 audio channels plus 16 channels of MIDI via a single USB cable
Live Sets allow Performance organization without copying, renaming, or changing order
4-Part Seamless Sound Switching: change Performances while holding notes without sound or effect cutoff
Direct Control Assignment assigns controls at the touch of a button
The A/D input processes external audio sources with your instrument's DSP
Motion Sequences drive synthesizer parameters through rhythmic control data you can interact with in real time
Envelope Follower allows internal or external audio to be used as a synth parameter control source
AWM2 provides data compression without sacrificing sound quality
1GB internal flash memory lets you install your own samples and external libraries for a completely personalized sound set
FM-X 8-operator FM synthesis delivers amazingly dynamic sonics and complex sound design
Virtual Circuitry Modeling (VCM) re-creates the sound and behavior of vintage effects and signal processors
Sidechain automatically controls dynamic behavior of parts separately from one another
Vocoder effect re-creates classic voice-synth sounds
Rhythm Pattern for effortless addition of drums or percussion to any Performance
USB-to-host allows audio/MIDI connectivity to your USB-equipped computer or iOS device
USB-to-device port allows connection of USB flash drives for loading and storing data
Advanced Integration with Mac/PC