Experience a top-of-the-line electronic drum set with the DTX10 TCS kit from Yamaha. The large shells give this kit the aesthetic and authority of an acoustic kit, with the customization and convenience of a premium electronic design. With Yamaha's new high-spec DTX PROX drum module, an upgrade from their previous DTX PRO module, you'll experience kit customization like never before. The TCS (textured cellular silicon) drum heads provide for snappy and responsive stick articulation. The cymbals, like the toms, are multi-zoned to allow for flexible accenting with every strike,and also offer three sizes for fantastic range. Quality hi-hat and snare stands, as well as cymbal arms and a hyper-responsive and enlarged kick drum pad are all included with the Yamaha DTX10 TCS. Take your electronic drumming experience to new heights!
Unprecedented Customization and Connection Opportunities
Everything you loved about Yamaha's DTX PRO Drum Module has been ultra-expanded in the new PROX to give you an impressive array of sound-shaping and connectivity features.
Pick a kit and shape your sound
Use the PROX's Kit Modifiers to find a drum kit that fits your sound and playing style, then utilize the incredible control display to customize the intensity of each component of your chosen kit. More snare, less crash? That's not a problem with the PROX's built-in multi-functional rotary faders, which give you complete command of your mix with individual faders for kick, snare, toms, hi-hat, crash, and ride. You can even control each kit's ambience based on actual recorded ambience from the sessions that built the DTX10. And it's all delivered to you with stunningly sharp sound quality, thanks to Yamaha's new transient controls and high-powered FX processor.
USB connectivity and versatile output lineup
Load up to 1,000 drum samples from a USB stick onto the PROX to design a kit layout that is entirely unique to you. Additional USB audio options allow you to playback and record audio from your computer or separate USB device. You'll also love the wide range of outputs, including L(Mono)/R outputs and MIDI out, making both live shows and studio recording a reliable and streamlined process. An additional two aux inputs/headphone jacks and1/4-inch jack are convenient for device connection or stage monitor input from a PA system.
Hard-working smart controls take your playing to new heights
Sharing your drum tracks, practice sessions, and performances has never been this easy! Take advantage of the Rec'n'Share app, which allows you to record audio, film, and share it with your friends and family. Its Bluetooth connectivity also allows you to link up your phone, tablet, or computer to the PROX, reducing the number of pesky cords running around your kit and making your practice sessions engaging and efficient. And when you're streaming backing tracks, the PROX's new Live Set feature lets you organize your drum kits into a set order, letting you keep your focus on what's most important: playing!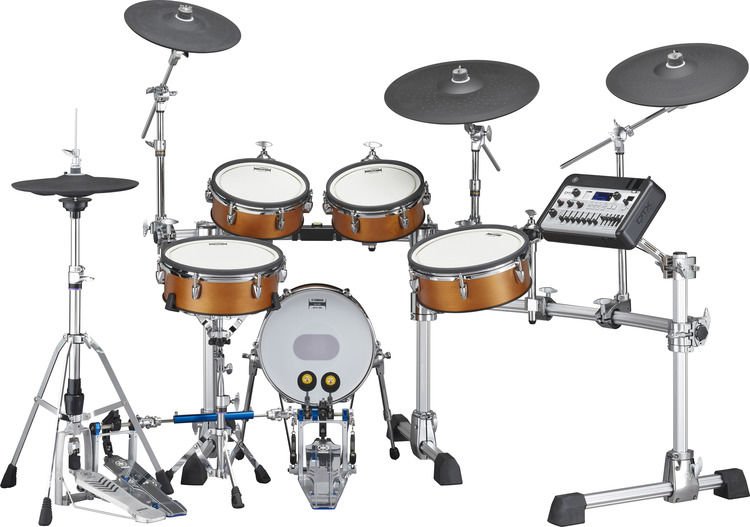 Textured Cellular Silicon dual zone drum pads
The DTX10 TCS includes a nice array of silicon padded toms, creating an ultra-responsive and realistic playing feel. The snare is a dual zone 12-inch XP125-SD-X pad, providing not only impressive depth on the head, but rim triggers as well for ultra-realistic playability. Two XP105T-X mounted toms measure 10-inches in diameter each, and a 12-inch XP125T-X tom provides even more depth, all with a familiar feel that emulates full kit rolls and fills. On the floor, a massive 12-inch kick drum pad (pedal not included) offers a hearty backbeat to compliment the rest of your kit.
Expressive 3-zone cymbal design
When it comes to cymbals, the DTX10 TCS delivers a real-world electronic design that swings just like a bronze cymbal. You'll be equipped with a 13-inch RHH135 hi-hat controller, a PCY135 13-inch crash, a PCY155 15-inch crash, and a new PCY175 17-inch ride cymbal. AudioProCT drummers are crazy about the 3-zone design, offering bell, edge, and outer rim tones to achieve the most realistic cymbal sound with organic stick-response.
Impressive adjustability and premium hardware
Your kit will come loaded with a ton of hardware that will not only help get you playing as soon as possible, but will allow adjustability to your individual comfort level. New to the DTX series, the DTX10 TCS features a separate, adjustable, and lightweight snare stand for a more life-like layout for your kit. The medium-weight 700 Series hi-hat stand is chain-linked with rotating legs for all of the response and placement options of an acoustic stand. Three medium boom cymbal arms each feature a two-stage height adjuster and 12-inch hideaway boom with dual tilters so that your cymbals sit just right. Also provided are three tom arm ball mounts and clamps to make setup more efficient. And it's all centered on the new HexRack II drum rack systemthat's designed to last and absorb every percussive motion just like an acoustic kit.
Yamaha DTX10 TCS Electronic Drum Set Features:
Premium DTX PROX module provide superior kit customization opportunities
Textured Cellular Silicon drum heads offer snappy response and realistic playing feel
Included drums: 1 XP125-SD-X 12-inch snare drum, two XP105T-X 10"mounted toms, and 1 XP125T-X mounted tom
KP128 12-inch kick drum pad (pedal not included) keeps an extra-solid backbeat
Included cymbals: 1 RHH135 13-inch hi-hat controller, 1 PCY135 13-inch crash, 1 PCY155 15-inch crash, and 1 PCY175 17-inch ride
Adjustable, single-braced, lightweight snare stand (SS662) offers a more acoustic-style snare setup
Medium-weight 700 Series hi-hat stand (HS740A) is chain-linked, and includes rotating legs for more accurate response and placement alterations
3 medium boom cymbal arms (CH755) feature a two stage height adjust and 12-inch hideaway boom with dual tilters allow for life-like cymbal settings
3 tom arm ball mounts/clamps (CL940MB) make tom setup a streamlined process
Supported by the new rock-solid HexRack II drum rack system