Product Overview
25 Watts* of Top Gear Tone to Go!
Quilter Labs helped popularize the pedalboard amplifier as we know it. Today, Pat Quilter brings his top-notch analog amp engineering to the brightest and best of the bunch: the SuperBlock UK. This pedalboard-sized 25-watt amp head gives you all the muscle you need to push a stage cab, drive a PA, and self-monitor directly from your pedalboard. The SuperBlock UK's three British voicings look back to an electrifying time in the guitar amp's history, with tones on tap that range from mop-top jangle and stadium-rock pomp to high-voltage master-volume overdrive — all in an easy-gigging format. Running direct? The SuperBlock UK gives you two switchable cab emulations and a lush digital reverb right onboard. On the rear, you'll find an FX loop to tag in preamp pedals or leave your reverb and delay pedals to roost. For fly dates and commutes, or even as a replacement for your traditional amp setup, the solid-state Quilter Labs SuperBlock UK is a ton of fun to play and packs some serious performance potential!
Note: *The SuperBlock UK is rated to perform as loud as a 25-watt tube amp when using the included 24V power supply. Standard 9V pedal supplies give you the equivalent of a 1-watt tube amp — which is still plenty loud for home practice!
Three British voicings
When it comes to tone, the Quilter Labs SuperBlock UK is all in. This pedalboard-sized amplifier includes three amp voicings based on a trio of British icons. In center position is an approximation of the Normal channel of a combo amp beloved by players from George Harrison and Brian May to Dave Grohl and Jonny Greenwood. This voicing's clean jangle and responsive compression supply a wide range of clean and dirty tones for rhythm and ambient parts. Cycling down to AC Top setting greets the player with the grit, brilliance, and snarl of this same amp's Top Boost channel. And when it's time for sustain-rich leads and howling overdriven breakup, a master-volume valve voicing gives you that mid-forward push you're searching for. If British amp voicings are the milk in your tea, you'll find your elixir with the SuperBlock UK.
1979 JMP: A seminal script-lettered hard rock amp known for its penetrating midrange and stakes-raising tube gain is the inspiration behind the SuperBlock's introductory voicing
AC Norm:Quilter's first AC-type amp voicing delivers big on that that across-the-pond chime, sparkle, sag, and spank
AC Top:Based on the Top Boost channel of a twin-twelve 30-watter, the SuperBlock's AC Top voicing gives you that signature brilliance and bark by the bucketful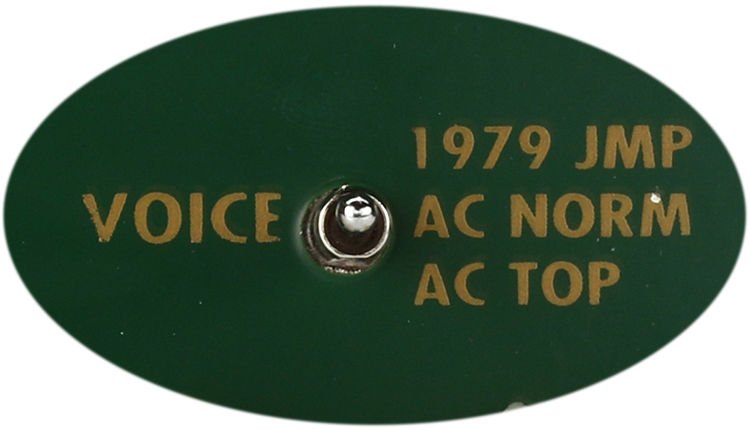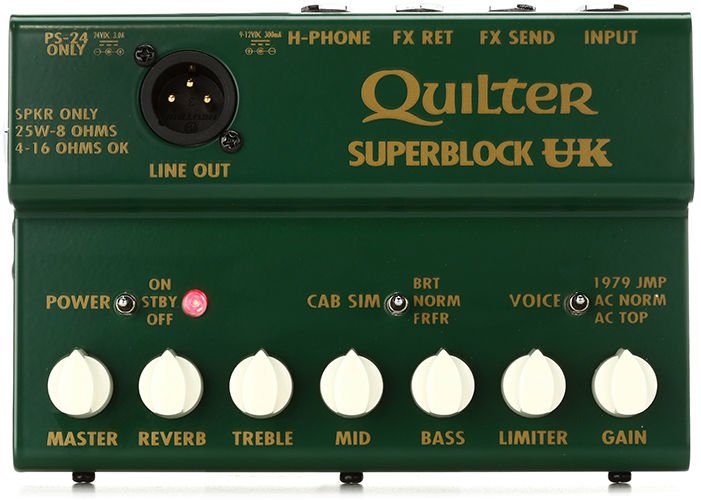 25 watts of cab-driving power
Leave that hefty head and its fragile glass tubes at home! A speaker cab and the pedalboard-mounted Quilter SuperBlock UK are all you need to push some air next time you gig out. Although the SuperBlock is technically rated for 8Ω cabinets, you're fine to run into a 4Ω or 16Ω cabinet (though possibly at the sake of some output and headroom). Using the included 24V power supply, the SuperBlock kicks with the equivalent of a 25-watt tube head. You can also use it with your standard 9V pedal power supply to reach the equivalent of a 1-watt tube amp — which still packs a punch for practice.
Cab emulation on XLR and headphone outputs
Here's more good news: you don't even need to haul a cab if you're playing somewhere with a PA. The Quilter SuperBlock UK has a speaker-emulated headphone output right onboard, so you can safely monitor yourself from the comfort of the stage. The XLR output shares whichever cab setting you choose — so whatever you hear in your cans or in-ears, your mix engineer hears from the other side of the mains.
Three speaker voicings
Two cab-emulated outputs make recording and gigging with your Quilter Labs SuperBlock UK a breeze. Most players will find a tone that works for them with the Normal and Bright voicings. But for even more control, you can bypass the speaker emulation completely using the FRFR setting. Now you're free to run an IR loader inline on your board or audition cabs in the computer.
Onboard reverb and FX loop
Whether you're plunking chords or baptizing leads in a cascade of syrupy ambience, we're pleased to report that the SuperBlock's digital reverb sounds excellent. On the rear of the unit, you'll find an inbuilt FX loop. Here you can connect additional reverb, chorus, or delay pedals to keep note fidelity intact as you crank the amp gain. Depending on the box, this FX loop also makes a great spot for preamp pedals to change up your SuperBlock's character.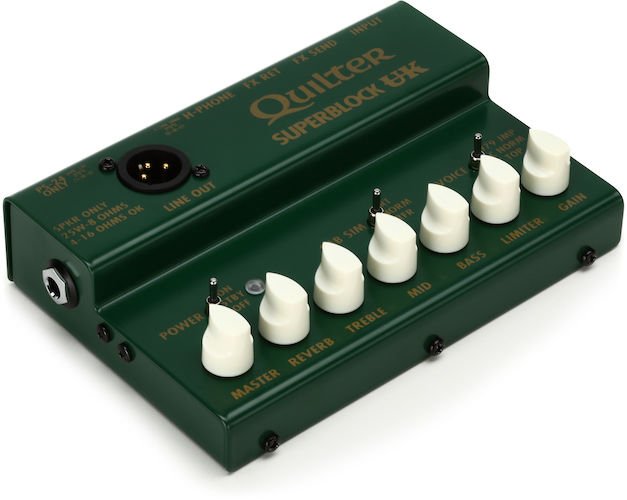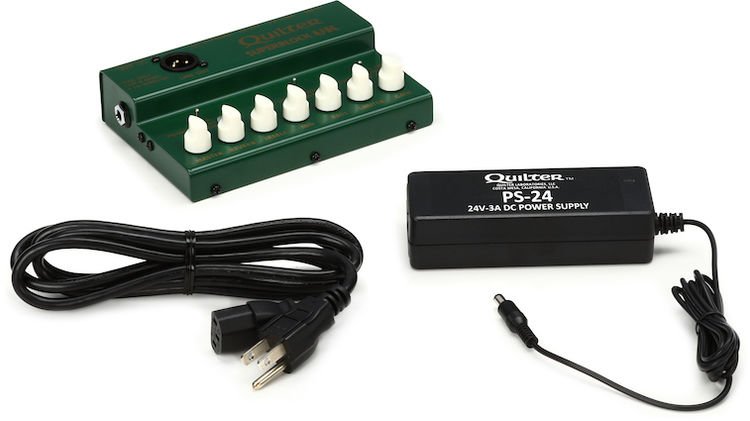 Quilter Labs SuperBlock UK Pedalboard Amplifier Head Features:
25 watts of Top Gear tone to go!
Kicks with the equivalent power a 25W tube head
All you need to push a stage cab and drive a PA directly from your pedalboard
3 amp settings voiced on 3 royal icons
Defeatable cabinet emulation on the headphone and XLR outputs
Normal and Bright speaker cab voicings cater to single-coils and humbuckers
Flat FRFR setting pairs perfectly with IR loaders
Digital reverb has endless utility for cleans to leads
Limiter control replaces the breakup "brick wall" with a soft, pillowy sustain
FX loop properly situates reverb, delay, or preamp pedals
Rated for 8Ω cabinets; can safely run a 4Ω or 16Ω cabinet
24V power supply included
Can also be powered by a standard 9V pedal supply for a reduced output
Product Videos
Reviews