From live sound reinforcement and event audio and speaking engagements to mobile DJing, the PRX ONE outputs a shocking amount of sound and boasts an intuitive workflow to boot. It features 12 vertically arranged 2.5-inch drivers, driven by JBL's AIM (Array Inumbration Mechanics) technology, distributing crystal-clear HD audio throughout a room in a wide 130-degree x 30-degree dispersion pattern. Place the PRX ONE in the center of your performance stage, and you can be sure listeners on either side of the room will be able to hear you clearly. The JBL PRX ONE's speaker columns connect to a 12-inch woofer that extends the frequency response down to a bone-rattling 35Hz. Playing smaller gigs? You can leave your outboard mixer at home since the PRX ONE gives you seven channels of audio to suit the whole band. There's even a dedicated Bluetooth/aux channel for music between sets and dance tracks for weddings and parties. With 2,000 watts of peak power and a design that nearly slips into the background, the JBL PRX ONE column PA system from AudioProCT is your one-way ticket to high-impact sound in a low-profile, easy-gigging design.
7-channel digital mixer
Some column PAs really skimp when it comes to channel count. But not the JBL PRX ONE. This system gives you seven audio channels and four mic preamps to build your sound. Plug in your bass, your guitar, a couple microphones, and a keyboard, and you've got reinforcement for the whole band that literally straps to your back. And yes, there's +48V phantom power for all your handheld stage condensers.
Bluetooth/aux channel
Jamming along to live backing tracks or pumping out jams before a set is a no-brainer using the PRX ONE's dedicated Bluetooth/aux channel. Now you can stream tracks wirelessly from your phone via this PA's blazing Bluetooth 5.0 connectivity, or simply plug in a laptop for DJing duties.
XLR Pass Thru
The PRX ONE's XLR Pass Thru sends a mirror of your entire mix — gain, levels, EQ, and effects — out over a single mono XLR cable into another PA speaker or recorder. This is useful for gigs that necessitate increasing the number of speakers available or for special sets when you want to capture a memorable performance.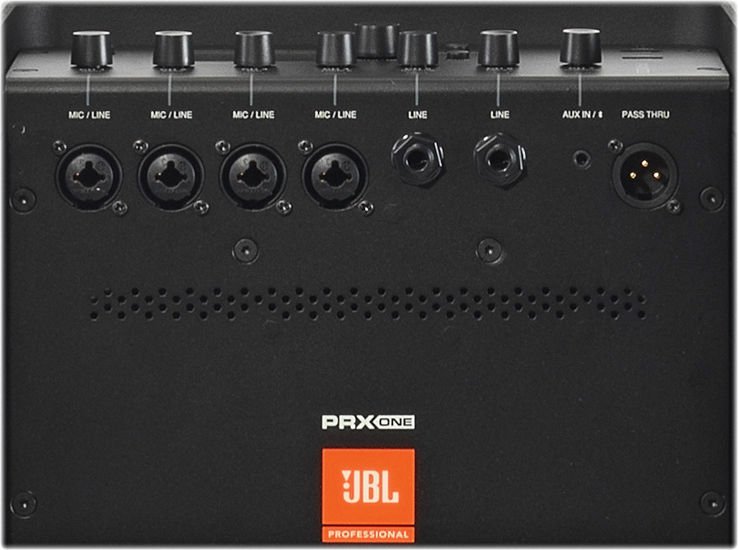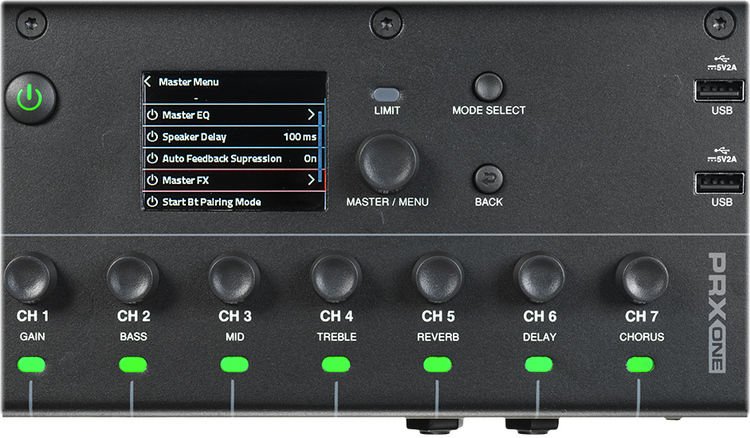 Knob-per-function gain, EQ, and effects
Menu diving is a must on many popular column speakers, but that is not the case with the JBL PRX ONE. This PA makes it so even novice users can dial in gain, set EQ, and unleash a potent cocktail of reverb, chorus, and delay in 60 seconds. AudioProCT users especially like the dedicated master knob located right in the center of the control panel for easy-peasy level setting.
8 user presets
Instant set recall is one of the best things about using a PA like the JBL PRX ONE. Now you can lock in settings during practice and recall them instantly once you get to the venue.
Onboard DriveRack tech
The dbx DriveRack gets top billing on the rider lists of many live sound engineers. In the PRX ONE, the tech is built right in. Now you can enjoy automatic feedback suppression, 8-band room tuning, and a speaker-protecting master limiter without bringing a full rack of gear.
USB 2.0 ports: charge phones and power wireless units
Whether you need to power wireless systems straight from the sub or you just want to keep your phone topped off as you play backing tracks, a pair of USB 2.0 ports in the JBL PRX ONE has you covered.
Note: An optional JBL adapter cable (not included) may be required for wireless systems.
12 x 2.5-inch speaker array
A dozen 2.5-inch drivers run up and down the JBL PRX ONE's speaker columns. These speakers contain custom high-frequency drivers with copper-capped pole pieces to deliver a smooth high-frequency response. From the air in a singer's voice to the harmonics of a strummed acoustic guitar, the PRX ONE can faithfully reproduce any sound.
12-inch subwoofer
A 12-inch bass-reflex woofer extends this system's low-end response all the way down to 35Hz. That's low enough to faithfully reproduce the low E on a bass guitar, the boom of a 24-inch kick drum, and the room-shaking LFE of your favorite dancehall banger.
2,000 watts of peak power
The muscle behind the PRX ONE's bustle is a 2,000-watt Class D power amplifier. This amp was chosen by JBL for its clean headroom and high linearity, as well as its light weight for easy transit.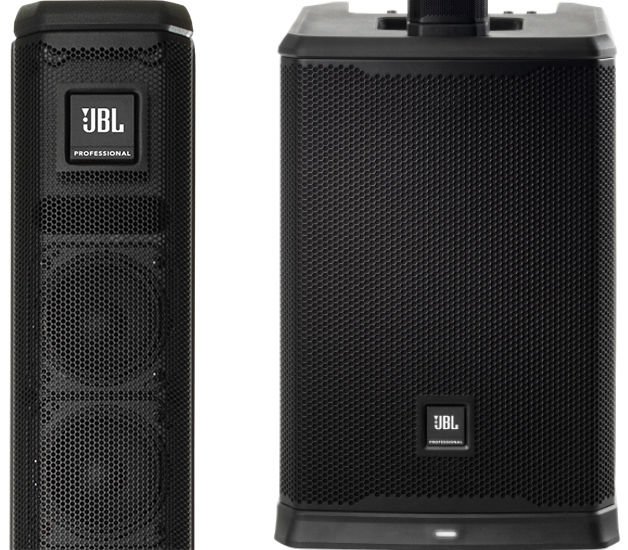 JBL PRX ONE 2,000W Column PA System Features:
2,000W (peak power) column PA system from JBL
Sets up in minutes
Integrated 7-channel digital mixer means you can leave your outboard mixer at home
Packs a surprising amount of coverage and power
Perfect for live sound reinforcement, event audio, speaking engagements, and mobile DJing
12 vertically arranged 2.5-inch drivers distribute audio in a wide 130° x 30° dispersion pattern
Copper-capped pole pieces supply a smooth high-frequency response
12-inch woofer extends bass down to a bone-rattling 35Hz
Bluetooth/aux channel for music streaming and backup tracks
XLR Pass Thru for speaker expansion and recording
Intuitive knob-per-function mixer layout
8 user presets let you recall sets instantly
Onboard dbx DriveRack tech offers feedback suppression and overload protection
Tech Specs
Type:

Powered PA Speaker

Speaker Drivers:

1 x 12" LF, 12 x 2.5" HF

Number of Mixer Channels:

7

EQ:

3-band Channel EQ

Effects:

Reverb, Delay, Chorus

Inputs:

4 x XLR-1/4" combo, 2 x 1/4" (Hi-Z), 1 x 1/8" (aux), 1 x XLR

USB:

2 x Type A

Bluetooth:

Yes, v5.0

Total Power:

1000W RMS, 2000W Peak

Mounting Options:

Floor

Power Source:

Standard IEC AC power supply

Height:

80.3"

Width:

17.6"

Depth:

14.7"

Weight:

56.6 lbs.

Manufacturer Part Number:

JBL-PRX ONE-NA