Product Overview
Loaded with professional features, the Yamaha TRBX605FM offers incredible value in a bass guitar. A classic tonewood combination of solid alder and stunning flamed maple delivers punch, bite, and sustain by the truckload. A comfortable 5-piece maple/mahogany neck combines excellent playability with superior tone and stability. Experience maximum sonic flexibility, by way of the TRBX605FM's YGD H5 pickups and audiophile-grade active/passive 3-band EQ. Beyond that, a high-mass die-cast bridge and innovative headstock design provide optimal vibration transfer and tuning stability. A battery-alert LED and attractive natural satin matte finish round out the impressive TRBX605FM.
A classic tonewood recipe
The TRBX605FM is built from quality tonewoods. A solid alder body provides a balanced yet punchy foundation for this bass's tone, yielding equal doses of lows, mids, and highs. A stunning flamed maple top frames the TRBX605FM's basic tone with brightness, bite, and sustain. And the added snap and warmth provided by its 5-piece rosewood-capped maple/mahogany neck are the final ingredients in the TRBX605FM's classic tonal recipe.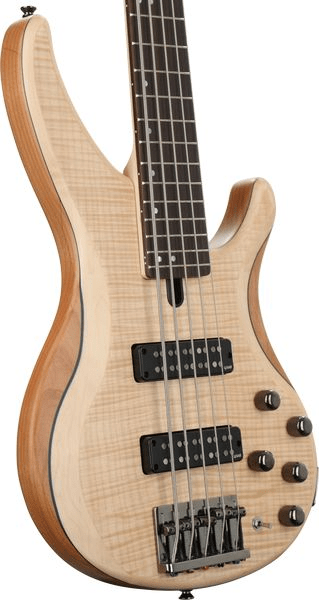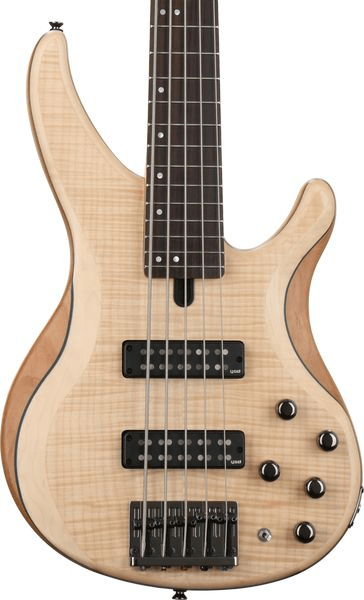 Flexible active 3-band EQ
The bassists here at AudioProCT appreciate the clean, open tone exhibited by the TRBX605FM's dual YGD H5 pickups. Plug in, and you'll experience ample output and dynamic sensitivity, by way of these pickups' quad-pole-piece design and robust Alnico V magnets. Beyond that, the TRBX605FM is loaded with an audiophile-grade active/passive 3-band EQ. This flexible circuit offers a level-matched output in both passive or active modes, and tone-switching circuitry that moves seamlessly from treble control to master passive tone. And as an added bonus, a battery-alert LED prevents unexpected power losses when you're performing onstage.
Comfortable 5-piece maple/mahogany neck
If you're searching for extreme comfort, you'll enjoy playing the TRBX605FM. Its TRBX neck design combines a comfortable profile with 5-piece maple/mahogany construction for excellent tone and stability. This bass's refined neck joint reflects the perfect balance of strength, vibration transfer, and upper-fret access. And you'll benefit from superior tuning stability and reduced overtones, thanks to a headstock that virtually eliminates lateral string tension.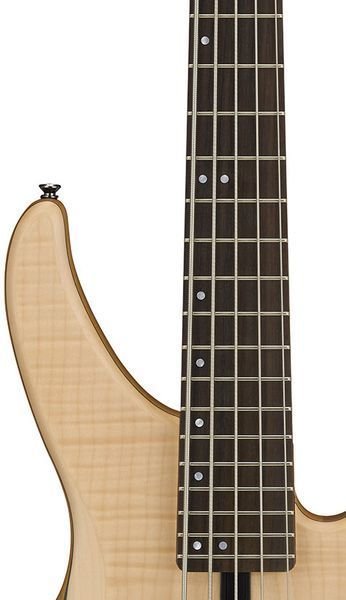 Yamaha TRBX605FM 5-string Electric Guitar Features:
Solid alder body provides a balanced yet punchy tonal foundation
Stunning flamed maple top delivers brightness, bite, and sustain
YGD H5 pickups exhibit a clean, open tone with ample output and dynamic sensitivity
Audiophile-grade active/passive 3-band EQ ensures maximum sonic flexibility
5-piece maple/mahogany neck yields excellent tone and stability
Refined neck joint balances strength, vibration transfer, and upper-fret access
High-mass die-cast bridge efficiently transfers string vibrations to the body
Headstock virtually eliminates lateral string tension for superior tuning stability and reduced overtones
Battery alert LED prevents unexpected power losses when you're performing onstage
Durable plate-mounted jack socket
Attractive natural satin matte finish
Reviews