Product Overview
Boutique-style Drive
Boutique amps sound amazing, don't they? But let's face it: they can prevent you from spending money on other gear for a good while afterward. Wouldn't it be nice to have a boutique amp in an affordable stompbox format? That's exactly what you get with the Vox Silk Drive overdrive pedal! When you plug it in and turn it up, the Silk Drive provides you with velvety-smooth overdrive tones reminiscent of classic boutique amp makers. With enough experimentation, you can dial in Mayer-esque leads or crunchy riffs with blooming harmonics. A minuscule Nutube provides the Silk Drive's tonal foundation. It gives you all the characteristics of full-sized tubes without the bulk or heat buildup. The Silk Drive also features a 3-band EQ and Bright switch for tone shaping along with standard Gain and Volume controls. So you can see how your signal is being affected by your settings, Vox also included a built-in OLED display with an oscilloscope. Complete with three operating modes and switchable all-analog cab emulation, the Vox Silk Drive is your ticket to a silky-smooth gain sound.
Use it as a pedal, preamp, or amp in a box
Vox equipped the Silk Drive with switchable operating modes for serious flexibility. Play through it in Standard mode, and it will act just like an overdrive pedal. By switching to Preamp mode, you can use the Silk Drive as a preamp for line-level devices such as your favorite keyboard. Finally, Cab-Sim mode engages the built-in analog cabinet simulator for direct recording or sending the signal to your PA system.
Nutube technology
The Silk Drive overdrive pedal features Vox's Nutube technology to give you the tube feeling that you love without the bulk, heat, or other issues. Through years of research, Vox shrank the traditional vacuum tube down into a minuscule size without sacrificing reliability or durability. With Nutube powering your pedal, you get the punch, sag, and harmonic complexity of a real amp in a pedal format. Meanwhile, internally boosted voltage gives you greater headroom, so you can dial in the perfect amount of breakup.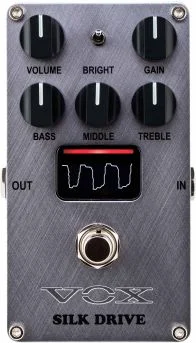 Vox Silk Drive High-gain Overdrive Pedal Features:
A boutique amp in a stompbox configuration

Nutube technology gives you the performance and feel of a tube amp

Active EQ provides intuitive tone shaping

Standard mode operates just like a pedal

Preamp mode handles line-level devices before sending them to a PA

Cab-Sim mode engages cabinet simulation for direct recording

Selectable cabinet simulator lets you run straight into a PA for live performance

Bright switch adds treble saturation

OLED display and oscilloscope shows how your signal is being affected in real time

All-analog signal path preserves tone
Reviews