Product Overview
Three essential tube amps
Strymon's Matrix Modeling technology brings you compelling virtualizations of three iconic tube amps. Here's what's inside:
Round — The Normal channel of a classic American 1 x 12" is the basis for the Round amp's mid-scooped, high-headroom character and gentle tube breakup. Unique to the circuit is the Iridium's midrange control: at noon, you get all the chunk and quack of the original tone stack. At higher values, Tweed-era tones start to appear. Additional gain on the top end gives the Iridium a velvety crunch you'd never be able to coax out of the genuine article.
Chime — The British Invasion owes more to the TB channel of this particular 30-watt combo than any other in history. At lower gain, the Chime channel is jangly and present, with great touch dynamics and a sweet harmonic breakup. Run it hot, and you get all the gain of the dimed original and beyond, with a frequency-shaped front-end boost implemented toward the top of the gain range to saturate and tighten up those crunch tones. As with the combo, the Iridium's Middle control acts as a Tone Cut to roll off treble just before you hit those virtual power tubes.
Punch — When meaty cleans and knobs-at-11 high gain are what you're after, Iridium's Punch amp preset is the option for you. It's modeled after a particularly coveted British hundred-watter. Gain settings at 2:00 on the Iridium gets you that classic Plexiglas-paneled snarl and growl. Opening up the throttle moves you well into hot-rodded Van Halen territory and beyond.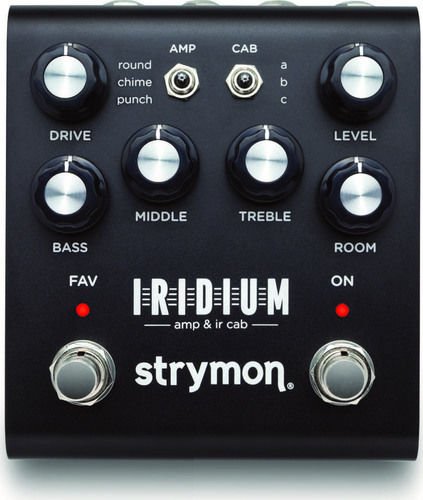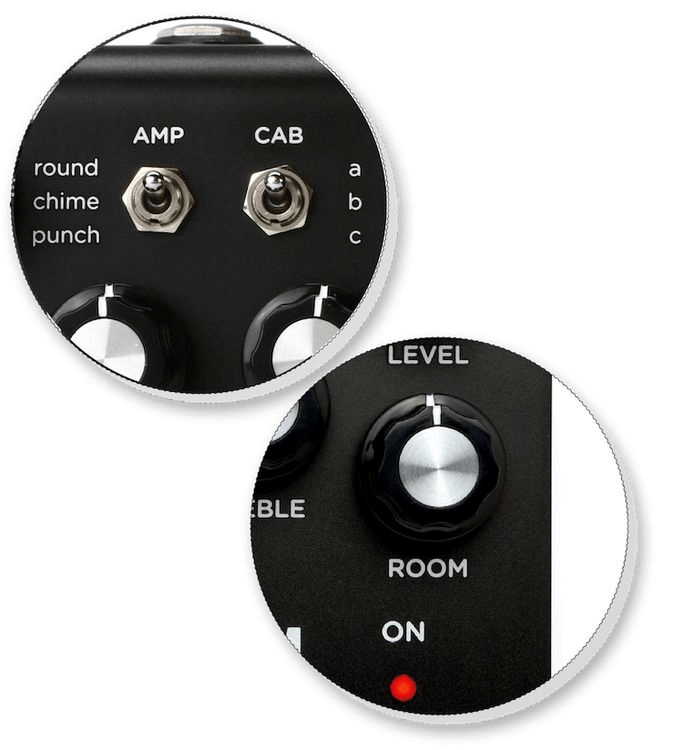 Nine onboard speaker cabs
The Strymon Iridium comes stock with nine choice speaker cabinet impulse responses (IRs) from leading third-party manufacturers like OwnHammer and Celestion Digital. We at Sweetwater found these to be a great starting point for each of the onboard amps, with very little need to modify. Even so, if you've got a collection of custom or homemade cab IRs you're picky about, the Iridium lets you load them in over USB using the free Strymon Impulse Manager, with support for mono/stereo files up to 500ms in 24-bit/96kHz quality. Here's what comes onboard:
Round A: Deluxe Reverb 1x12" (OwnHammer) — Open-back Fender combo with a 1978 Fender CTS 12" ceramic speaker
Round B: Blues Junior 1x12" (cabIR) — Open-back Fender combo with a Jensen C12N 12" speaker
Round C: Vibrolux 2x10" (cabIR) —Open-back Fender combo with two 1965 Jensen C10NS 10" speakers
Chime A: AC30 2x12" Alnico (OwnHammer) — Open-back Vox combo with two 2001 Celestion T0530 Alnico Blue speakers
Chime B: 1x12"Alnico (Celestion) — Closed-back cab with a Celestion Alnico Blue 12" speaker
Chime C: Mesa 4x12" (ValhallaIR) — "Half-back" Mesa cab (open top, sealed bottom) with two Mesa/Celestion Black Shadow MC-90 12" speakers and two Mesa/Electro-Voice Black Shadow EVM-12L 12" speakers
Punch A: GNR 4x12" (OwnHammer) — Closed-back Marshall cab with four 1971 Celestion Greenback G12M-25 12" speakers
Punch B: 2x12" Vintage 30 (Celestion) — Open-back cab with two Celestion Vintage 30 12" speakers
Punch C: Marshall 8x12" Alnico (cabIR) — Closed-back Marshall cab with four Celestion T652 Alnico speakers
Onboard room reverb
To further sell that amp-in-a-room vibe, the Strymon Iridium gives you four mesmerizing stereo room convolution reverbs in a simple 1-knob interface. Dial up to add some space to solos or pull back for a more intimate, focused feel.
Stereo ins and outs
The Strymon Iridium supports either mono or stereo pedal setups. So whether you run a single-pedal ship or a whole fleet, or stereo Strymon chorus and reverb pedals, Iridium has the I/O to suit your setup.
Hybrid analog/digital signal path
The key to the Iridium's amp-like response is its Class A JFET preamp circuit, which gives you familiar touch dynamics and 20dB of pure analog gain to boost and saturate your input.
ARM/SHARC coprocessing
Strymon pedals are known for their powerful SHARC processors, and in this way, the Iridium is no different. But what is unique is how it handles the heavy lifting of both an amp modeler and a 500ms stereo IR convolver. An ARM coprocessor that's optimized for high-speed communication with the SHARC ADSP-21375 gives the Iridium the seamless response of an analog pedal, whether you're toggling between favorites or spinning knobs, along with 32-bit floating-point approximations of some beautifully modeled amps, cabs, and room reverbs.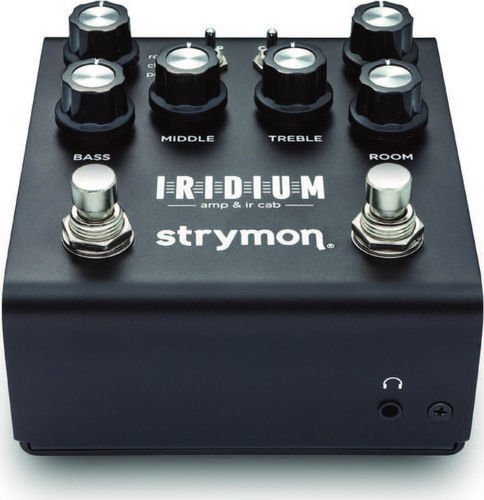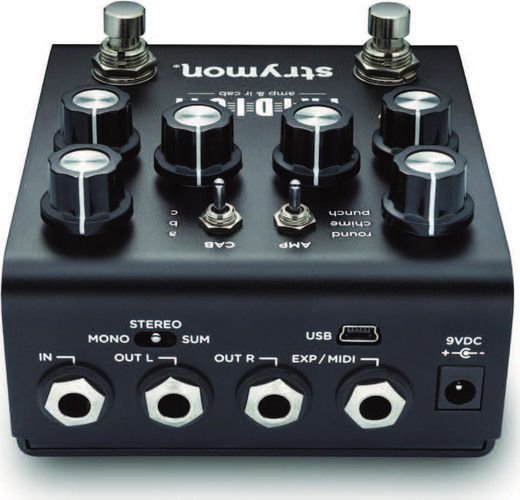 Add and edit your own cab IRs
Loading your own stereo cab IRs into the Strymon Iridium — up to 500ms and 24-bit/96kHz resolution — is no problem using the free Impulse Manager software. Connect the Iridium's USB jack to your computer, then drag and drop.
Expression pedal input
Plug a standard expression pedal TRS cable into the Iridium's EXP/MIDI jack, and you can adjust volume settings (pre- or post-preamp) or morph seamlessly between knob positions.
300 favorites
You can also save and access full sets' worth of favorite presets by inserting a Strymon DIN-to-TRS MIDI cable into the EXP/MIDI jack and connecting a MIDI controller. Take it from guitarists at Sweetwater: if you're searching for meticulously modeled amp tones in a familiar pedal format, you can trust your setup to the Strymon Iridium.
Strymon Iridium Amp and IR Cab Pedal Features:
3 amps and 9 speaker cabs in a familiar pedal format
Powerful SHARC/ARM DSP processors
Onboard reverb sells the amp-in-a-room response
Matrix Modeling captures the tube response and interactive tone stacks of 3 highly coveted amps — American clean to British high gain
Cab IRs from OwnHammer and Celestion give the Iridium a performance-ready response
Can also import IRs (mono/stereo, 500ms, 24-bit/96kHz) over USB
TRS expression pedal input unlocks hands-free volume swells and level control
Access up to 300 favorites using a Strymon MIDI EXP cable and MIDI controller
Selectable true bypass/analog buffered bypass switching
9-volt DC power supply included
Proudly built in the USA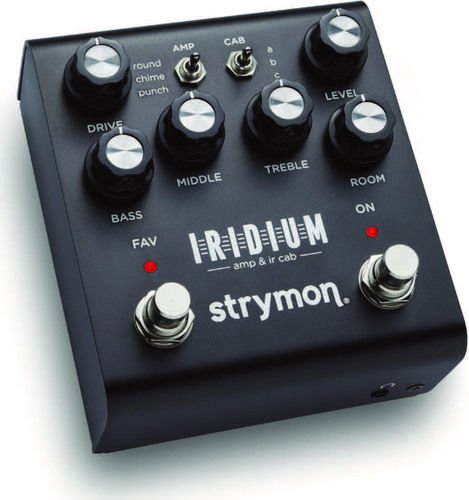 Tech Specs
Pedal Type:

Amp Emulation, Impulse Response Cabinets

Analog/Digital:

Digital

Inputs:

1 x 1/4" TRS (mono, stereo via adapter)

Outputs:

2 x 1/4" (L/mono, R), 1 x 1/8" (headphones)

Other I/O:

1 x 1/4" TRS (expression/MIDI)

USB:

1 x Mini-B (load IR files)

True Bypass:

Yes, Switchable to Buffered

Features:

9 x Pre-loaded IR Cabs, 3 x Amp Models, Reverb/Ambience Settings

Power Source:

9V DC power supply (included)

Power Usage:

Up to 500mA

Height:

1.75"

Width:

4"

Depth:

4.5"

Manufacturer Part Number:

Z12A- IRID
Reviews