Product Overview
The Soldano Super Lead Overdrive Pedal packs the sound of its legendary SLO-100 tube amp into a pedalboard-ready stompbox. The original SLO was built upon a cascading-gain-stage design, arming guitarists with what's arguably the most detailed-sounding high-gain tones of all time. The SLO Pedal uses a similar topology, arming you with a nuanced character that's a dead ringer for the original amplifier. The stompbox's top-panel controls echo those of the amp that inspired it, with Volume, Presence, and Gain knobs, plus a 3-band EQ. You also get a side-mounted Deep switch for nailing the original amp's Depth-knob low-end punch. No matter what Soldano sound you're aiming for — modern high-gain, early-'90s Van Halen or Lynch, or '80s-era Clapton or Knopfler — the Super Lead Overdrive Pedal will nail it.
Re-creates the legendary Soldano cascading-gain-stage tone
In 1987, Mike Soldano created the renowned Super Lead Overdrive 100-watt tube head. Coveted for its ultra-articulate high-gain tones, the SLO-100 was used by many esteemed hard-rock guitarists, including Edward Van Halen, Mick Mars, Warren DeMartini, George Lynch, and Howard Leese. The SLO wasn't limited to metal-centric tones, however. Mark Knopfler, Eric Clapton, Warren Haynes, Gary Moore, and Lou Reed used the SLO to achieve an exquisite, bluesy crunch. The secret to the SLO's magical tone is in its unique cascading-gain-stage design. The Super Lead Overdrive Pedal replicates this topology, yielding the balanced gain, sustain, and touch response that makes the SLO tube amp such a coveted item. If you've ever wanted to capture a bit of the Soldano magic, this amp-in-a-box pedal puts this signature sound smack dab on your pedalboard.
Jam-packed with familiar top-panel controls
There are numerous SLO-100 devotees among Sweetwater's ranks. The Soldano Super Lead Overdrive Pedal boasts a similar control layout to the original amp, so we found it quick and easy to dial in. Volume and Gain knobs let you dial in your output level and amount of saturation. A 3-band EQ offers all the sound sculpting you could ask for. You also get a Presence control for refining your high-end sizzle. To top it off, the SLO Pedal includes a side-mounted Deep voicing switch that mimics the original amp's Depth knob, enabling you to adjust the impact of your low-frequency punch.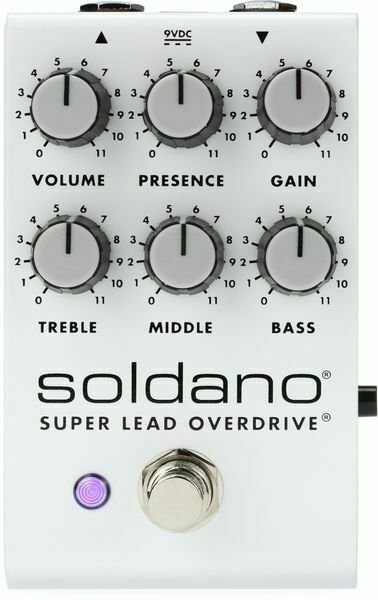 Soldano Super Lead Overdrive Pedal Features:
Inspired by the legendary Soldano SLO-100 tube amplifier
Replicates the original amp's cascading-gain-stage design for authentic SLO tone
Volume and Gain knobs let you dial in your output level and amount of saturation
3-band EQ offers all the sound-sculpting you could ask for
Presence control allows you to refine the pedal's high-end sizzle
Side-mounted Deep voicing switch nails the original amp's Depth-knob low-end punch
Eye-grabbing Soldano aesthetics

Tech Specs

Pedal Type:

Overdrive

Analog/Digital:

Analog

Inputs:

1 x 1/4"

Outputs:

1 x 1/4"

EQ:

3-band EQ

Controls:

Volume, Presence, Gain, Deep Switch

Power Source:

9V DC power supply (sold separately)

Height:

2.25"

Width:

2.6"

Depth:

4.5"

Weight:

1 lbs.

Manufacturer Part Number:

SLO PEDAL
Reviews